Thursday, April 23, 2020 8:45 pm
Ramadan Kareem! Ramadan Mubarak! InshaAllah Friday, April 24th will be the 1st day of fasting. We pray that Allah swt accept our fasting and Dua's in this month of Ramadan. For safety reasons, all Masjid activities will continue to be suspended until further notice. Please be sure to check this website for announcements. Jazakullah Khair!
---
Tuesday, April 21, 2020 10:01 pm
In order to comply with social distancing guidelines and to help combat the spread of coronavirus, there will be no community iftar or Taraweeh Salah during Ramadan until further notice and the Masjid will remain closed. We encourage you to plan for iftar with your family at your home. We pray that Allah keeps everyone in His Protection and May He enable us to use this time to increase His remembrance at our houses inshaAllah.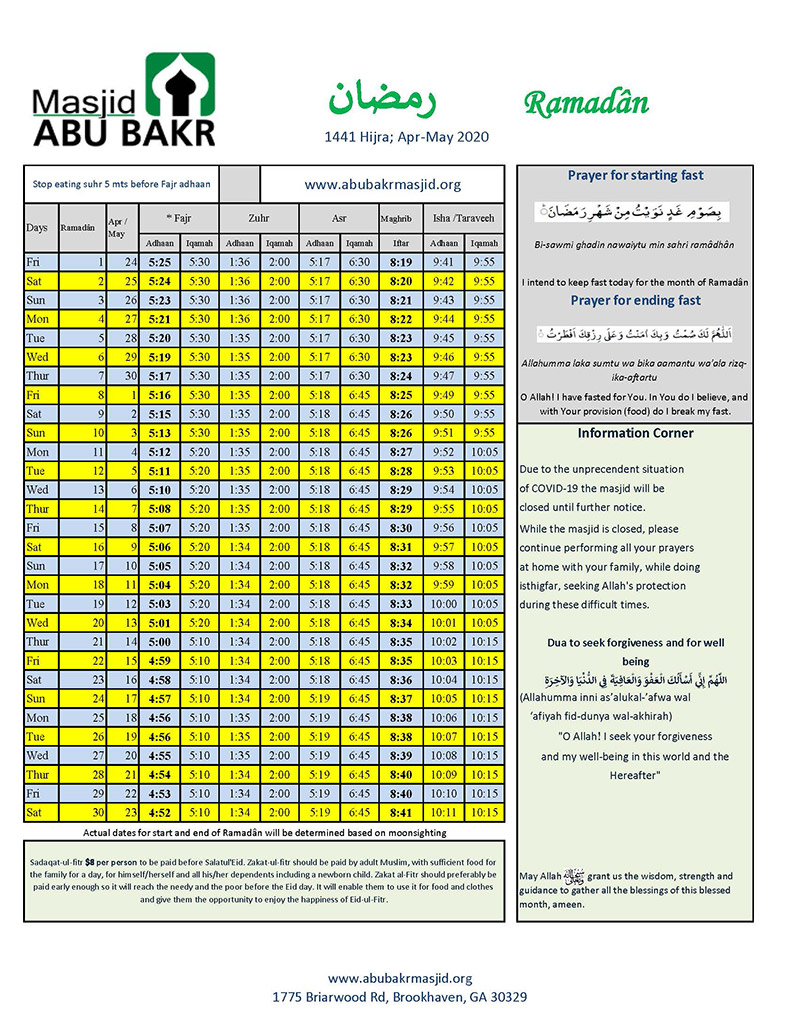 ---
Tuesday, April 21, 2020 10:00 pm
---
Tuesday, April 21, 2020 9:40 pm
Alhamdulillah, we delivered 20 'Ramadan Grocery Boxes' to Muslim families on Saturday 4/18/2020. We thank all the volunteers who arranged the boxes, collected and delivered them to the deserving families. May Allah swt reward them immensely. We plan to do this again in a couple of weeks. Please let us know if you want to volunteer and know of any deserving families.
---
Friday, April 17, 2020 12:18 pm
The City of Brookhaven has on April 14 extended the emergency declaration and prohibited gatherings of more than 10 people through Apr 30, 2020. We urge and request everyone to perform salaat-ul-Jumua'h and other salawaat in their homes. If you happen to be here then please make sure there are no more than 10 people in the masjid at any given point of time. Please stay safe and healthy and increase your duas, azkaar and prayers. We will keep you posted with further updates as we monitor the situation InshaAllah. May Allah protect us and not burden us beyond what we are capable of. Ameen
---